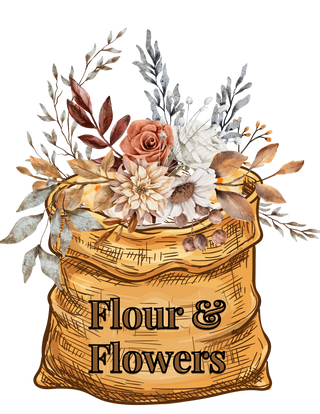 Flour & Flowers
🍂🎃 Calling all autumn enthusiasts and fall lovers! 🎃🍂
Get ready to embrace the cozy charm of fall at the Flour & Flowers - Fall Harvest Edition! 🍁 Join us for an evening celebrating the heartwarming essence of fall on Wednesday, October 4th, 2023, from 6:00 PM to 8:30 PM at the enchanting Fall Harvest Venue located at 715 North Main Street, Pocatello, ID 83201.
🍪 Embrace the spirit of fall by crafting sugar cookies adorned with delightful autumnal designs that will make you think of crisp air and falling leaves. Then, prepare to immerse yourself in the art of fall floral arrangement with a tutorial that captures the beauty of the season. 🍂🌼
But here's the twist! While we all love pumpkin spice lattes and the thrill of Halloween, this event celebrates a different side of fall. It's about appreciating the season's rich colors, the coziness of sweaters, and the joy of gathering with like-minded fall enthusiasts. 🍁
And yes, there's more! Your taste buds are in for a fall-inspired treat as you savor fine wines and indulge in snacks that are as warm and comforting as a cozy sweater. 🍷🍂
Imagine this: you, surrounded by fellow fall enthusiasts, sharing laughter, camaraderie, and unforgettable memories, sipping on your pumpkin spice latte if you wish, and reveling in the beauty of fall, beyond the usual PSL and Halloween festivities. 🤗 This isn't just a workshop; it's a fall-themed gathering where you'll create masterpiece memories and soak in the autumnal spirit.
Ready to embrace the magic of fall in a whole new way? Secure your spot by RSVPing through the link below. 🎟️ Let's turn cookie decorating and floral arranging into the ultimate fall celebration of creativity, laughter, and coziness. 🍂
RSVP Link: https://flowersbyld.florist/pages/flour-flowers
See you at the Fall Harvest Venue! 🍂🌼🍁 #FallHarvestDreams #FlourAndFlowersFallEdition